Whether you're a start-up company, a big time agency, or anything in between, success comes from setting yourself apart from your competitors. With limited in-person contact today, demonstrating what makes your company unique has become increasingly more difficult. As a result, having a website that reflects who you are, what you do, and what distinguishes your business from others is crucial. Pioneer Benefits Partners, an employee benefits agency, recognized the essentiality of this, and came to us at Aje for a solution. Luckily, our team knows a thing or two about designing an incredible new site. 
With their exceptional benefits expertise, provider relationships, and client support, Pioneer helps companies save on their employee benefits plans without sacrificing any value for their workforce. With their data-driven approach to assist in price negotiation, Pioneer is able to achieve incredible savings for their clients, with an impressive 30% on employee benefits on average. All they needed was an equally stunning website to match their outstanding savings track record.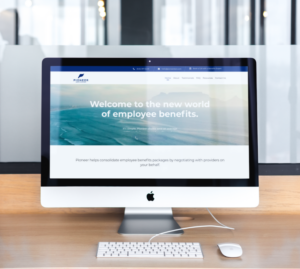 Pioneer came to Aje with a few general requests for their new website. From a visual standpoint, they wanted a more modern and sleek look, featuring a video on their homepage to assist in this contemporary vision. Now, they have an eye-catching homepage that immediately greets users with a stunning ocean view, some key metrics, and their general mission as a company. With brand-consistent colors, fonts, and pleasing visuals, Pioneer's site draws potential clients in and invites them to stick around a little longer. 
When it came to functionality, Pioneer sought a more responsive site that was easy for users to navigate and get in touch with their team. In addition to methods of contact visible at the top of their homepage, clients now have access to easy appointment booking with Calendly. They also asked to include an FAQ section to help answer some of their most commonly asked questions. 
As a finishing touch, Pioneer wanted their site to regularly feature content of their own. With their new blog that shares resources and best practices, they are currently doing just that, offering users their insight and perspective from the employee benefits world. 
Pioneer's new site proves that a digital investment can boldly set your company apart from others in your field. With striking pages that encourage browsing, users can discover their superior results and admirable mission that truly speak for themselves. Now more than ever, it's incredibly evident why potential clients should choose Pioneer.