Hosting a large event can be an incredibly stressful endeavor. Whether it be a wedding, birthday party, or bat mitzvah, your special day deserves to both look amazing and remain an enjoyable experience. When you choose Nassau Tent Party Services, you're guaranteed an unparalleled quality of service and style that will help make your event an unforgettable one. All NTPS needed to match their renowned reputation was a website that truly demonstrated why they are the best known rental company in the tri-state area. With a vision in mind, they came to Aje to make that possible.
As a family owned company, NTPS has been serving the New York, Long Island, Shelter Island, and Fire Island areas for over 60 years. Since their first hire for the original Woodstock Festival in 1969, they have developed into a top tier tent rental company that provides clients with an elegant, creative personal touch. With a vast inventory and a skilled, resourceful team, NTPS dedicates themselves to fulfilling the visions and needs of each individual. After designing their site, our team made sure they had a website that showed customers exactly why they should choose NTPS. 
When NTPS first came to us, they originally bounced back and forth between two existing websites. We began by consolidating and combining the most valuable information, images, and features from those two sites into one, ensuring that users would only view their most visually pleasing pages and up to date content.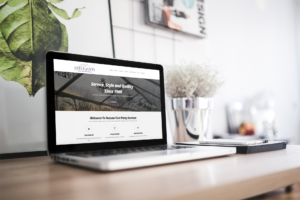 With a heavy reliance on booking to facilitate business, NTPS also needed their website to offer a dynamic variety of methods for clients to secure their highly sought-after services. Now, their new site has just that. With a contact button visible on the homepage and an additional tab for event booking and applying for employment, getting in touch with them has never been easier.
After finalizing their content and new features, all that was left was the fun part: making their site look stunning. NTPS needed an eye-catching layout that highlighted who they are and what they can do in a clear, organized manner. With highly visible, short blurbs detailing their background, testimonials, and services, users are encouraged to spend a minute reading up on NTPS' incredible work. 
Potential clients could certainly take NTPS' word for their state-of-the-art products. Instead, their team wanted to ensure customer satisfaction through an extra element. With an online gallery in progress, clients will truly see for themselves why NTPS is the best choice. In the near future, clients can catch a glimpse into product options before an event with a showcase of their various services. In a socially distant age that relies on connecting through screens, this new feature is perfect for keeping up with our new world. 
NTPS beautiful tents, astounding service, and glowing reviews have always spoken for themselves. By working with Aje, they now have a website that gives those admirable qualities a voice.