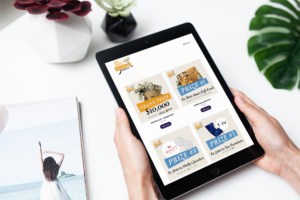 Fundraising for an organization can be difficult at times, especially as there are currently over 1.5 million non-profit organizations that exist in the world today. With so many excellent missions needing donations, it can be hard getting help and standing out.
The Levi Yitzchak Library & Family Center is designed to engage entire families with a vast selection of books, multimedia activities, and creative outlets that represent traditional Jewish values. It is a community jewel that inspires visitors to interact and grow together, in a warm environment of discovery and learning. A place children, teens, and adults can call their very own.
Levi Yitzchak Library & Family Center came to us to create a new fundraising website for their annual Chanukah Auction within a short time frame. In under one week, we created a website for their charity auction that included multiple ticket packages and a wide variety of prizes. The site showcases how the family center and library benefit the community by inspiring learning, growing, giving, and sharing. The charity auction lasted four weeks and their new site helped them reach their goal of raising over $100,000!